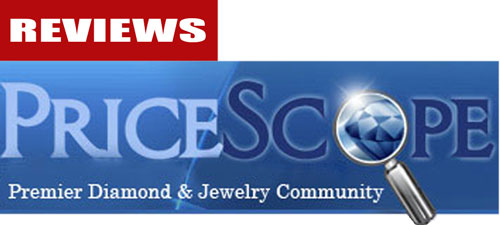 At first my fiance and I were really nervous about sending my loose diamond to New York. But in the end it was well worth it. Yoni is amazing to work with. He communicates with you every step of the way and is super easy to get a hold of.
I haven't been on the forums here in a while, but I thought it was about time I told my story. Almost a year ago, I proposed to my longtime girlfriend. Getting a ring wouldn't have been possible without Pricescope
First off, let me say that i have been in search for the perfect diamond and setting to propose to my future fiance/wife at the right price. After countless hours and months of research spent on these forums and viewing different settings, I finally found what I wanted and at a price much less than I anticpated.
So, what of Eternity Diamonds? I came across them initially as I was looking for a round brilliant, ideally H&A and at a good price! Yes I know the whole world wants best pricing, high quality goods and the best service possible. I looked at most of the perhaps more well known key vendors on here and then by chance came across Eternity.
I ordered my setting from a company on eBay (I know)! When it came, it was horrible, misshapen, uneven, too thin, it didn't even look like it would be structurally sound. So back to the drawing board.
I've been toying with the idea of getting my RB solitaire haloed and I finally pulled the trigger. I went with Eternity Diamonds and worked with Yoni, who was great and very accommodating. I ended up picking up the Anya but modified to have parts of the Leila.
Just wanted to update this post for future potential ED shoppers who are looking for info. I''ve had Yoni at Eternity Diamonds call for info on a bunch of stones (at least 6 or 7) to check if they''re eye-clean or if the flouro makes them hazy, etc.
Wow...this seemed like such a looooooooooooooooooooooooooooooong journey! I think if it wasn't for pricescope it definately would've been a shorter one, but i KNOW i wouldve been screwed in the process hahahahaha...so a big MAHALO NUI LOA!!!
Introducing the 1st EternityDiamonds.com ring on Pricescope! br>I know the regulars on PS have a few favorite vendors but I decided to give one of the new vendors a shot. The price for platinum at Eternity Diamonds was just right for me.
I am looking for a Cathedral Solitaire Style setting. The setting price in ED is very competivity. I did a searching but few topic and reviews about this vendor, so I am wondering if anyone worked with them would like to share some experience.
So I was feeling fairly confident with my understanding of modern cut diamonds and then decided to go the vintage route. My gf loves vintage looking rings and antique cut diamonds.
Thanks Yoni and Eternity Diamonds for my beautiful new E ring! 1.57 RB + .32 carat platinum 2mm band
I highly recommend Eternity Diamonds, who made this custom halo. Yoni is the guy to talk to. He truly goes above and beyond, and he has been so patient and accommodating.